History: WORLD PREMIÈRE: Traverse Theatre, February 1994
EDINBURGH FRINGE 1994, 1996, 2000, 2003, 2007, 2010, 2014, 2015
ADELAIDE FESTIVALS: 2006, 2007, 2008, 2010, 2012, 2016
TOURS: Domestic and Worldwide from 1994

Nominated: Stage Award, Best Solo Performance, Edinburgh 2003
One of the most successful solo shows of all time... Over 2000 perfrormances globally.
The complete text, uncut and unexpurgated!
Availability
Domestic & International touring through 2023/24


DYLAN THOMAS LINKS:
http://www.discoverdylanthomas.com/



(copy & paste as required)
THEATRE TOURS INTERNATIONAL presents

UNDER MILK WOOD

(Full version)

by Dylan Thomas
Performed by Guy Masterson
Directed by Tony Boncza (with original direction by George Dillon)
Original music and Soundscape by Matt Clifford

IT HAS TO BE SEEN TO BE BELIEVED!
Celebrating its 70th anniversary, Olivier Award winner Guy Masterson celebrates his own 30th anniversary with Dylan Thomas' enduring masterpiece - Under Milk Wood: a day in the life of 'Llareggub' - a fictional sea-town somewhere in Wales…
In an amazing feat of memory and physical virtuosity, Masterson recreates all 69 of Dylan Thomas' wonderfully ebullient inhabitants entirely on his own!
Complemented by a stunning original soundscape by Matt Clifford, this unique solo interpretation makes the words sing! It's bawdy and beautiful, sad and sensual and, through the music of language, leaves indelible, unforgettable images of humanity. The beauty of Thomas's wordplay and Masterson's virtuosity will leave you breathless!
Inspired by his famous uncle, Richard Burton - who led the first broadcast of Under Milk Wood on the BBC World Service in January 1954 - this award winning production has played well over 2000 times all around the world since 1993 from Edinburgh to the West End, New York to New Zealand, Hong Kong to Calcutta over its 30 years, enchanting audiences wherever it has played...

"If you've never seen Under Milk Wood before, this is perhaps the ultimate rendition. Don't miss it!" (The Times)

"It's a feat of multiple characterisation impeccable timing, vocal dexterity and precise physical control, performed with tremendous sensitivity and panache!" (The Guardian)

"Absolutely wonderful, intensely therapeutic, intensely uplifting! Guy Masterson is something exceptional!" (BBC Radio Scotland)
THEATRE TOURS INTERNATIONAL presents

UNDER MILK WOOD - Semi Skimmed!

by Dylan Thomas
Performed by Guy Masterson
Directed by Tony Boncza (with original direction by George Dillon)
Original music and Soundscape by Matt Clifford

One of the most successful solo shows of all time with over 2000 performances worldwide!
30 years after its debut, Olivier Award winner Guy Masterson presents the "Semi-Skimmed version" of his globally acclaimed solo tour-de-force "Under Milk Wood"
This 65 minute tour-de force" is an hilarious lyrical romp through Dylan Thomas' fictional 'Llareggub'... Fat free it may be, but it's so rich and bursting with lyrical exuberance that even aficanados would be hard pressed to know what's been left out!
Each remaining inhabitant in Dylan Thomas' timeless masterpiece is assiduously recreated in an amazing feat of memory and physical virtuosity. Complemented by a stunning original soundscape my Matt Clifford, it's bawdy and beautiful, sad and sensual and, through the music of language, leaves indelible, unforgettable images of humanity. The beauty of Thomas's wordplay and Masterson's virtuosity will leave you breathless!Inspired by his famous uncle, Richard Burton - who led the first broadcast of Under Milk Wood on the BBC World Service in January 1954 - this award winning production has played well over 2000 times all around the world since 1993 from Edinburgh to the West End, New York to New Zealand, Hong Kong to Calcutta over its 30 years, enchanting audiences wherever it has played...

"If you've never seen Under Milk Wood before, this is perhaps the ultimate rendition. Don't miss it!" (The Times)

"It's a feat of multiple characterisation impeccable timing, vocal dexterity and precise physical control, performed with tremendous sensitivity and panache!" (The Guardian)

"Absolutely wonderful, intensely therapeutic, intensely uplifting! Guy Masterson is something exceptional!" (BBC Radio Scotland)
GUY MASTERSON - Performer (click for additional biographical material)
After obtaining a Joint Honours degree in Biochemistry and Chemistry from Cardiff University in 1982, Guy studied drama at UCLA's School of Drama and started as an actor in 1985 in Hollywood. He returned to the UK in 1989 to study further at LAMDA. He is an multi-award winning actor, playwright, director, producer, international presente, dramaturge and renowned acting and executive coach.
Following a conventional start in plays, film and television, Guy began solo performing in 1991 with The Boy's Own Story and thence Under Milk Wood in 1994 and Animal Farm in 1995. He first produced/directed in 1993 with Playing Burton participated at the Edinburgh Fringe for the first time in 1994. The following 26 seasons saw his association with many of Edinburgh's most celebrated hits, and his company became EdFringe's most awarded independent theatre producer - garnering 8 Scotsman Fringe Firsts, 3 Herald Angels, 25 Stage Award nominations (including 4 wins) together with numerous lesser awards. Guy also directed two of Edinburgh's biggest grossing dramatic hits: 12 Angry Men - famously starring a cast of well known comedians including Bill Bailey, Dave Johns and Phil Nichol, which then toured Australia and New Zealand - and The Odd Couple (2005) starring Bill Baile and Alan Davies. He also originated One Flew Over The Cuckoo's Nest (2004) starring Christian Slater and Mackenzie Crook which transferred to teh Gielgud Theatre in London's West End and later, The Garrick. His 2009 production of Morecambe transferred to The Duchess Theatre in the West End and won the Laurence Olivier Award for Best Entertainment (plus another nomination for the actor playing Eric).
At Edinburgh 2014 his epic 30 actor adaptation of Animal Farm produced by Tumanishvili Film Actors Theatre of Tbilisi, Georgia, won the Stage Award for Best Ensemble. His production of The Marilyn Conspiracy was due to transfer to London in June 2020 but was postponed by Covid19. Most notably, his 2019 hit, The Shark Is Broken finally opened at the Ambassadors Theatre in the West End in October 2022 and was Olivier Award nominated for Best New Comedy. It since played seven weeks in Toronto, and will open at the John Golden Theatre on Broadway in August 2023.
Most recently, he directed Picasso: Le Monstre Sacré at the Playground Theatre in London, and co-directed the award winning The Marvellous Elephant Man - The Musical at the 2023 Adelaide Fringe Festival and Melboburne International Comedy Festival.
As a performer, he won The Stage Best Actor Award in 2001 for Fern Hill & Other Dylan Thomas and was aslo nominated in 1998 for A Soldier's Song, in 2003 for Best Solo Performance for Under Milk Wood, and again for Shylock in 2011. In 2003, he also received Edinburgh's most prestigious accolade, The Jack Tinker Spirit of the Fringe Award. His most recent solo work, A Christmas Carol, has sold nearly every ticket over 5 festive seasons since it opened in 2017.
His theatrical commitments have largely kept him out of mainstream film and television, however, he made the obligatory appearance on Casualty (Christmas Special 2004) and has been the Franziskaner Monk - the face of the premium German weissbier - since 2007! He also writes plays, screenplays and poetry, is an executive performanc and confidence coach. His passion is to bring great new ideas to life and fresh talent to the stage.
He is married to Brigitta and father to Indigo and Tallulah...




TONY BONCZA - Director
Trained at the Central School of Speech and Drama.
Acting credits include: Coriolanus (RSC); Great Britain (RNT); The Moustrap (60th Anniversary International Tour). Director General, Yes, Prime Minister, (Trafalgar Studios West End and National Tour); Four Nights in Knaresborough (Southwark Playhouse); The Critic (Minerva, Chichester Festival Theatre); 1800 Acres (Riverside Studios); Shakespeare in the Garden (Japan); Victor in The Price (Wolsey Theatre, Ipswich); Tom in The Norman Conquests (Birmingham Rep); Charlie in Death of a Salesman (Royal Lyceum, Edinburgh); Musik (Plymouth Theatre Royal); Indian Ink, A Woman of No Importance, To Kill a Mockingbird, Jamaica Inn, Barbarians, Donkeys' Years, Macbeth, A Winter's Tale, Lady Windermere's Fan, Just Between Ourselves, Racing Demon, The Cherry Orchard, The Merchant of Venice, The Rover, The Banished Cavaliers, The Norman Conquests and The Crucible (Salisbury Playhouse); The House of Correction (Guy Masterson Productions/The Pleasance)
Revue and cabaret includes: Boncza and Lumley: Back by Public Demand, Crackers Deluxe, More Crackers and Christmas Crackers (Salberg Studio, Salisbury Playhouse); Bars on Broadway (Nuffield Theatre, Southampton); The Pindar of Wakefield (Grays Inn Road, London).
Television includes: The Sarah Jane Adventures, Doctors, Londoners (Polish TV), Hotel Babylon, EastEnders, The Inspector Lynley Mysteries, The Vet, Ties of Blood, Squadron, Coronation Street, Jackanory Playhouse, Strangers, Morecambe and Wise's Night Train to Murder, Eric Sykes's If You Go Into the Woods Today, For Maddie With Love, Dick Turpin.
Films include: Chariots of Fire, Empire of the Sun.
Directing credits include: Animal Farm, A Soldier's Song and Under Milk Wood (National and International tours for Guy Masterson/TTI and British Council); Bella Bella Donatella (Salisbury Umbrella/ Salisbury Playhouse); and has also directed a number of corporate and short films.
He also co-wroteBarton Stacey and the Theft of the Elgin Marbles for BBC radio with the late Roger Leach.

Other shows Tony directed for Theatre Tours International

Other shows Tony performed in for Theatre Tours International

DYLAN THOMAS - Author
Dylan Thomas was born in Swansea, South Wales on October 27th 1914, the son of the English Master of Swansea Grammar School, where Dylan was later educated. He began writing poetry as a schoolboy before taking his first job as a junior reporter for the South Wales Evening Post in 1931. His first volume of verse Eighteen Poems was published in 1934 prior to a move to London where he worked in journalism, broadcasting and script-writing. His next volume, Twenty Five Poems was completed and published in 1936. In the same year, Dylan married Caitlin Macnamara and they moved to Laugharne in Carmarthenshire, South West Wales. During World War II, Dylan spent most of his time in London where he wrote & broadcast for the BBC. In 1940 Portrait Of The Artist As A Young Dog - a collection of short stories, brought him widespread critical acclaim. He also wrote several plays and scripts including The Doctor And The Devils. Deaths And Entrances which followed in 1946, contained some of his finest poetry and resulted in his being invited to lecture in the USA. Thomas eventually visited the USA on four separate tours which paid handsomely, enabling the upkeep of his family back in Wales. His heavy drinking, however, had seriously weakened his health and on 9th November 1953, after a famous binge in the White Horse Pub in New York, he died, ostensibly of alcoholic poisoning - although it has since been suggested that he, being diabetic, entered a fatal diabetic coma induced by excessive alcohol. His body was returned home and buried in Laugharne with a simple wooden cross marking his grave. He was 39. Under Milk Wood and Quite Early One Morning,a collection of his works for the BBC were published posthumously in 1954.

Other Dylan Thomas based shows presented by Theatre Tours International

MATT CLIFFORD - Composer
In a diverse career including touring and recording with rock bands, composing for West End theatre, advertising and Hollywood movies, Matt has carved something of a niche composing for sporting events. His association with the UEFA Champions League began with creating the anthem in 2003 that is still played in European stadiums before every match. He has continually refined the UCL audio brand since then and has also composed themes for the UEFA Cup, the UEFA SuperCup and four Champions League Final Opening Ceremonies (featuring among others, Andrea Bocelli, David Garrett, Jonas Kaufmann and Tinchy Strider).
Matt composed the official anthem of the Rugby Six Nations and also the broadcast music for the 2010 FIFA World Cup in South Africa.
His theatre work includes soundscapes for One Flew Over The Cuckoo's Nest (West End 2004), The Day Of The Triffids; The Shawshank Redemption and Guy Masterson's solo Under Milk Wood.
He has also collaborated, toured with and composed for The Rolling Stones, for over 30 years.
THE PLAY: Dylan Thomas' beautiful lyrical study Under Milk Wood started life as a short story with a working title of The Town Was Mad. While working for the BBC in the late Thirties, the first draft of a day in the life of a fictional sleepy Welsh fishing town entitled Quite Early One Morning was broadcast. In 1952, Llarreggub - a Piece for Radio Perhaps appeared in the Botteghe Oscure - a literary magazine published in Rome.
After Thomas finally settled upon the title Under Milk Wood, he also added the proviso A Play For Voices. In May 1953, with the piece still in development, Thomas recited it solo to an invited audience at the Poet's Theatre in New York. The final draft had its first complete reading in November of the same year. This time Thomas read "First Voice" with a cast of American "guests" taking the other roles.
It is widely thought however that this draft was not the final version Thomas had in mind, and that the comparative haste of the dusk to evening sequence was indicative of a mad rush to add a quick ending for the second reading. It could be then that the piece we know and revere is actually unfinished, and that Thomas had intended to complete the play upon his return to Britain in 1954. He died in New York on November 9th 1953.
Under Milk Wood was posthumously broadcast in January 1954 to widespread critical acclaim with the twenty-nine year old Richard Burton leading the cast. It has become Thomas' most famous and enduring work and has been translated into over 50 languages. Regularly on the national syllabus, Under Milk Wood was re-recorded for the BBC in 1963 (again with Richard Burton) and then with Anthony Hopkins, Jonathan Pryce and an all star cast in 1990. The BBC commissioned a further recording to mark the 50th Anniversary in 2003, using Richard Burton's 1954 voice recording backed by a contemporary Welsh cast. Guy Masterson's 2003 with Matt Clifford - after 10 years performing it around the world - became only the 4th officially sanctioned version.
As a stage play it is normally performed with more than one actor playing the 69 characters!





LONDON THEATRE REVIEWS - Elaine Pinkus - 11/05/23 - Wiltons Music Hall
'To begin at the beginning' and so the scene is set of a sleepy village in the silence of night where, through the intimate whispers of Guy Masterson, we are drawn into Thomas' landscape of the dreams and nightmares of the inhabitants of the small Welsh seaside village of Llareggub (oh do read it backwards), and led through their daily routines and wistful dreams when aroused by the tolling of the bells on a fine spring day. In the intimate auditorium of this wonderful Victorian theatre we immerse ourselves in the vivid visual depiction of a 'dozy town' through the wonder of the lyrical play/poetry.
'Hush, the babies are sleeping, the farmers, the fishers, the tradesmen and pensioners, cobbler, school teacher, postman and publican, the undertaker and the fancy woman, drunkard, dressmaker, preacher, policeman, the webfoot cocklewomen and the tidy wives'
Yes, they are all there though the masterful depictions, we see them, we hear them. Sitting on a chair and wearing sunglasses, Masterson invites us to share with him Thomas' close portrayals of the host of characters, which come alive as he voices those magical words with absolute clarity, vocal precision and impeccable timing. At one point in a bedroom, at another in the harbour by the sea. Masterson morphs before our eyes, dancing and singing and becoming those inhabitants.
Sure the music, lighting and sound effects complement the narrative but it is the magic of Masterson that brings to life this Thomas masterpiece and unfolds the tapestry, painting the pictures like an artist with an eye to the miniscule detail. He is each character, embodying their beings so that we can believe in their very essence.
Previous to Masterson's performance, there have been productions both visual and audio, on radio, film and stage with Richard Burton, Peter O'Toole, Sir Tom Jones, Sir Anthony Hopkins, Elizabeth Taylor, Philip Madoc, Matthew Rhys and Michael Sheen. But tonight, the spotlight belongs to Olivier Award winner Masterson who, inspired by his famous uncle, Richard Burton who led the first broadcast on the BBC World Service in January 1954, has performed this timeless piece in over 30 countries and over 2,250 times and is now enjoying his 70th anniversary of this wondrous piece, where he brings to life the 69 inhabitants of the sleepy village.
With skill and sensitivity, under the excellent direction of Tony Boncza and supported by Matt Clifford's soundscape with Tom Turner's lighting, Masterson rises to the challenge, inhabiting the words and sensibilities of the characters, and achieving the exact balance between sadness and humour, sharpness and warmth.
From where you are you can hear their dreams' on this starless, moonlit night' and quietly visit them in their private fantasies. How I share with Polly Garter: 'Nothing grows in our garden, only washing.' Yep, know that feeling
Thank you, Masterson, for allowing me to revisit this magnificent piece, to delight in the Pughs and blind Captain Cat, to enjoy the tittle tattle at Mrs Organ-Morgan's general shop and the laughter of the children as they skip and play their teasing games. How wonderful to step away from hitherto enforced GCSE analysis and to just enjoy the moment, in the atmospheric surround of Wilton's Music Hall, relishing Thomas' portrayals of the real roots of daily lives and routines. 'A play for voices', Thomas' Under Milk Wood was performed with honesty and without any tricks of technology. Pure bliss!
Under Milk Wood semi Skimmed at Edinburgh Fringe 2021





BRITISH THEATRE GUIDE 11/08/21 Graham Strachan
It's fitting that after a year of theatrical silence upon the boards of the Edinburgh Festival Fringe, and as Guy Masterson proudly celebrates his 27th year at the Fringe, he would bring Dylan Thomas's classic Under Milk Wood back to the stage, thundering softly through the darkness of the sleepy night above the town of Llareggub, and spinning webs of story about the weird and strange people who live there.
From Blind Captain Cat, to Rosie Probert and the Reverend Eli Jenkins, his comically overblown observations of the recognisable mundanity of village life has lost little of its majesty in the seventy years since it's original release as a radio-play.
Masterson, a veteran of over 2,000 performances of this piece, rocks, spins and lopes around the stage, flitting seamlessly between characters, at times orchestrating conversations between entirely differently voiced and mannered yokels, with a practiced ease and joy that comes with such familiarity. It's at times funny, at times sad, and in many ways the perfect return to the stage for audience and artist alike.
It's unfortunate, then, that a technical issue with the lighting led to more than a twenty-minute delay in the piece beginning, but one that was essential to the piece, as the lights spell out the story throughout, highlighting and contrasting scene and character. It's always preferable to have these things in order, but a delay such as this does hamper the work.
If there's a criticism of the work, beyond the specific technical issues previously mentioned, it's that the piece is still slightly butt-numbing even in this truncated form. Thomas's jocular satirising of the mundanity certainly entertains, but it does drag on just a little at points.
Even with these provisos, caveats and minor grumbles, there is little to knock the power and mastery at hand here. A welcome return for us all, and a chance to laugh at ourselves as much as others.





UK THEATRE NETWORK 10/08/2021 Clare Brotherwood
Guy Masterson is, for me, the star of this year's Fringe – or indeed any Fringe.
The festival's most awarded independent theatre producer and director during his 27 year association, he is also an award-winning actor, so this show was a must-see.
…And for another very special reason.
For Guy's great uncle was actor Richard Burton, whose rendition of this 'Play for Voices' is still as famous as its author Dylan Thomas.
His uncle would have been proud of him! Masterson's portrayal of the population of the fictional Welsh fishing town is a tour de force. The Londoner who started his acting career in Hollywood drew us in as soon as he began speaking in a melodious Welsh accent. But this was no recitation. While the stage play is usually performed by more than one actor, Masterson slips effortlessly from one to another of a myriad of characters (the full-length version has 69!), from a crying baby to a flirtatious girl to sensual women to Blind Captain Cat and everything in between, using his body as well as his expressive voice to bring each and every one of them to life in a way his uncle could never have done on a recording.





EDFRINGEREVIEW 10/08/21 Jungmin Seo
'Stand on this hill. This is Llarregub Hill […] from this, you can see all of the town below you sleeping in the first of the dawn', declares Fringe-veteran, Olivier-Award-winning Guy Masterson, his carefully commanding voice echoing into the hushed darkness of the Palais Du Variété. We forget that he is actually standing on top of a plain wooden chair – one of the only items on stage – for it is as though we are there in that small Welsh fishing village, inhabiting the magical night of Dylan Thomas' enduring radio play, Under Milk Wood. Masterson's (sixty-nine-characters-as-a-) one-man-show, Under Milk Wood, is officially 27 years old (it's a little younger at the Fringe – closer to nine years), with over 2000 performances under its pyjama sleeve. The tagline from The Times reassures me that 'If you've never seen Under Milk Wood before, this is the ultimate rendition' – and it certainly is. Under Milk Wood – Semi-Skimmed – 'semi' because it has been adapted to Fringe running-times – is fresh, dense, and creamy, rippling with elegance and energy.
When I'm fortunate enough to stumble into an impromptu interview with him after the show, he explains that the sparseness of the set is due to his desire to 'strip myself of everything that I ever did as a performer. I didn't want to perform it, I wanted to channel it. I wanted it to come through me as if I was like a violin'. The performance flows seamlessly: there is even a grotesque musicality to the cow-kissing and the fish-gulping. It might seem a daunting production for those who are unfamiliar with Thomas' work, but Masterson's stage presence brings each of these characters to life, regardless of whether or not you have been able to keep count. It is, quite simply, an enchanting, inexplicable, stream-of-consciousness experience. No doubt everything has been thought through: 'When I did it twenty years ago, I was very skinny, with a bald head, wearing a pair of pyjamas, looking like an inmate of a mental institution. That's taken from the fact that the town was mad – either way, everyone went "that's a really avant-garde image"'. He laughs before adding a caveat – 'not that the audience needed to know the allusions to all that' – in his distinctively generous manner.
The lighting, under the direction of Tony Boncza, coats the performance with another layer of magical musicality. It enhances the shadows on the back wall, which, according to Masterson, had been a chance-encounter: 'It was a lovely discovery when that happened – I wanted a back-light that made it feel like night-time, with characters coming in and out of dreams, and I looked behind me, and they were alive'. He describes the entire piece as an 'experiment in physical theatre'; it pulses with sound, shadow, and spectacle. His passion and dedication to Under Milk Wood is abundantly clear: 'My wife and I say that it has made our lives'. And the best thing about it? He wants to share it. After the show, he stands by the door, allowing people to ask him about what brings him to the piece, what he loves about it, what he does to it every time he performs it. He wants to tell the story of the story, and it's certainly worth listening to. Or, as Dylan Thomas says in the opening of Under Milk Wood: 'Listen… Listen… Look'.





EDFRINGEREVIEW 10/08/21 Isabella Briers
Guy Masterson gives an outstanding one-man performance of Dylan Thomas's iconic 'play for voices', Under Milk Wood. The poetic play famously celebrates the English language just for the very sake of it, playfully squeezing in words until the writing is ready to burst at the seams. Masterson delivers a lyrical, tactile, exhilarating performance which elevates the script into another dimension entirely.
Remembering a day in the Welsh town of Llareggub, Under Milk Wood conjures up sixty-nine distinctive characters, each played by Masterson in an extraordinary triumph. An all-knowing narrator addresses the audience, 'only you can hear the houses sleeping', before introducing the eccentric personalities. There's the hilariously sinister Mr Pugh, who wants to kill off his dreadful wife with arsenic tea and venomous porridge. Then the tragic figure of Polly Garter, a washerwoman loved by many men, but whose heart belongs to a long-dead lover. Captain Cat, an aged sea captain, tells us his heart-wrenching dreams; schoolchildren play comical games; old gossips natter; bawdy men are crude. Life in all its infinite variety is present.
Masterson's range extends beyond comprehension. With only a chair, a pair of sunglasses, and a pint of 'beer' which he downs halfway through (in character), he transports his audience directly to every precise moment and character psyche. The audience ends up so in-tune to his remarkable physicality, that he ultimately commands power by a single tilt of the chin, or slightest shift in his gaze. In a beautiful harmony of lighting, sound, and fascinating physicality, the characters appear as individual entities.
Credit must go to the tech team and to Matt Clifford's remarkable soundscape which provides enduring images of humanity's everyday charm. Technical voice effects make successful alterations where needed. Masterson's voice echoes and booms as ghosts, or nasal static turns him into a 1940s radio presenter.
This is a dense, elaborate, and timeless piece of work – practically Shakespearean in magnitude. Some lines are outright tongue-twisters and it is no mean feat to enunciate every word from memory. Don't let the 'Semi-Skimmed' part fool you. Even in this abridged version, every last second is put to use. Glimmers of raw passion convey Masterson's personal connection to the words – he has performed them over two thousand times since 1994 and they were made famous by Masterson's great uncle, Richard Burton (yes, that one).
The show I saw, already running half an hour behind due to technical difficulties, had a key light blow out halfway through the performance. But nothing could faze Masterson, and he returned in exquisitely composed character once we could see him again. I cannot even use a full hand to count the most minute stumbles he made over fragments of the script, and I'm the worst kind of audience for seeking out slip-ups. Each one was almost immediately erased and spoken over, as if his mind was auto-correcting.
If you don't make it there this Fringe, there'll hopefully be every chance you can make it to this show on its next run. Watching the performance is watching genius at work. It would be so worth the wait.
PUNTER REVIEW - ELLEN TERRY BARN THEATRE - 05/10/19
It was such a privilege to sit in the front row of the magical Barn Theatre last night, as Guy Masterson enveloped us, for the second time, in the poetic language of Dylan Thomas and drew us into the sleepy Welsh village of Llareggub, bringing myriad characters to life with brilliant versatility.
The performance was beautifully observed, exuberant, passionate, energetic, poignant, uninhibited and full of yearning for loves lost and dreams unfulfilled.
Guy demonstrated the universality of the characters to perfection, the 'No Good Boyo' (lost Dylan?); sweet, sensual Polly Garter; poor old Pugh, locked in a loveless, arsenic marriage; the old Sea Dog, musing on his drowned sailor pals; Organ Morgan's obsession with Bach; the village gossips, the house proud, the drunkards, the sunny Reverend, full of praise and forgiveness, and the children's excitement as they revelled in skipping games and kissing experiments. Oh, the ignominy of the forfeit for the shy and penniless!
What a feast for the soul! What a master class in pace, delivery, facial expression, accents and physical theatre! The moving final scenes left me in tears.
Please pass on our deepest thanks to Guy for such a powerful, creative and deeply researched performance, even more compelling than last time. The beautiful words flowed for two hours and Dylan Thomas would have been so thrilled to experience his masterpiece, Under Milk Wood, brought to the stage with such faithfulness and depth of understanding.
Sometimes, I sit in the mysterious Barn Theatre, wondering how a working class girl, blessed to have had a wonderful single Mum, a state grammar school education and later, a Music and Drama acting and teaching career, managed to end up in Ellen Terry's Barn Theatre in Small Hythe, washed by the soothing balm of a wonderful performance. This was one of those unforgettable nights! All I could do at the end, was to kiss Guy's hand and to thank inwardly the loving wife and family who sustain him, while he gives 200% every stage performance (Tessa Fineman - 06/10/19)
ROTUNDA FESTIVAL - BUXTON FRINGE - 06/07/19
To begin at the beginning.
Dylan Thomas' Play for Voices was completed late in 1953, weeks before the author's death. It has become one of the best-loved texts of its time - I hesitate to say in the English language. Phrases and characters from Under Milk Wood are familiar to many who have neither read nor heard the Play. It has inspired musicians (Stan Tracey's jazz suite, for example) and been plagiarised (though King Crimson's Starless is forgivable).
But Under Milk Wood has 69 characters. Surely it is absurd to try and make it a one-man play? You might have thought so but Guy Masterson's performance has, over many years now, shown what can achieved with imagination and ability.
Guy brought his 'highlights' version to Buxton - a 60-minute production rather than the full-length two-hour show. The semi-skimmed show was originally developed for Edinburgh. He has performing the piece for over 20 years but says he never tires of Thomas' language and can never tire of sharing it with audiences.
Hearing Under Milk Wood is to hear phrases and images that might have been coined yesterday. There is a freshness and immediacy about so much of it that can only be truly apparent when it is heard rather than read.
Guy Masterson inhabits the characters and loves them as Thomas surely did. "We are not wholly bad or good/Who live our lives under Milk Wood/And Thou, I know, will be the first/To see our best side, not our worst."
This production was a joy from start to finish and I would readily see it again tomorrow. (Keith Savage - Buxton Fringe 16/07/19)
NEW ZEALAND TOUR AUTUMN 2016:
THEATRE REVIEW NZ (Auckland) 21/10/16
The black stage lies bare save for a white chair in the spotlight and a glass beer mug downstage centre. When your script is one as famously evocative as Dylan Thomas's Under Milk Wood you really don't need anything else. The chair is for seated characters and geographical levels, the mug, as much as anything, seems like a tribute to the author, drunken Welsh antihero that he was.
The spotlight fades, then rises again on solo actor Guy Masterson, standing on the chair in light blue pinstripe pyjamas and shades. He launches straight into the opening, all-embracing lyrical depiction of the sleepy fishing village Llareggub (read it backwards), as its colourful and eccentric inhabitants turn in for the night. From the first, the inherent musicality of Thomas's garrulous verse instils a hypnotic, dream-like atmosphere.
Under the patently able direction of Tony Boncza, Masterson cracks through the first act at pace, channelling multiple characters in brisk succession both vocally and physically with deft mime and gestures. It's no mean feat for one middle-aged man to portray allegedly 69 distinct roles of all ages, genders (the two most common ones anyway) and social bearings; his glib delivery and comfortable bedclothes belie the consummate skill required for the task.
Act II pauses for breath a little more often. Still liberally laced with humour and song, it delves more deeply into the melancholy side of life in the quiet seaside town, culminating with the poignancy of blind retired seamen Captain Cat's wistful remembrance of Rosie Probert, his favourite love 'in a life sardined with women'. The 24-hour narrative concludes as Llareggub settles down for the night once more, with a prevailing sense the myriad events of the day will inevitably repeat themselves tomorrow.
Under Milk Wood could be described as dramatic poetry, with generous servings of wry wit, and a dramatis personae to rival Dickens for entertaining nomenclature: Captain Cat, Mrs Ogmore-Pritchard, Jack Black the cobbler, Polly Garter, Nogood Boyo, Gossamer Beynon, PC Attila of Handcuff House, Organ and Mrs Morgan, Mog Edwards, Myfanwy Price, undertaker Evans 'the Death', et al.
Albeit the wordplay being the thing, the visual potential of the limited production resources is well realised, in particular with the compellingly enlarged shadowplay on the back wall. Composer Matt Clifford's accompanying soundscape further augments the ethereal tone with aplomb. Orchestral backing and specific instrumentations such as Organ Morgan's church pipes underpin Masterson's verbally graphic descriptions, along with other incidental noises, plus the suitably eerie holographic reverb effect on the voices of a number of ghostly beings.
Guy Masterson has been performing this work on and off for around a couple of decades now. The fresh energy and natural joy he exudes in the process implies he'll be happy to continue doing so for as long as people continue to come, which isn't likely to let up any time soon or later given the timeless brilliance of Thomas' most celebrated masterwork. (Nick Smythe - Theatre Review NZ - 21/10/16)
THEATRE SCENES - (Auckland) 20/10/16)
The last time Guy Masterson visited Auckland's Herald Theatre in 1999 with his solo version of Under Milk Wood, he helped inspire a future classic of New Zealand Drama. A young Toa Fraser had been working on a Fijian story, but after watching Masterson, went in a very different direction. One chair. One actor. Multiple characters. No 2 was born and Masterson would go on to produce No 2 at the Edinburgh Fringe.
It was with this very cool serendipitous footnote in New Zealand theatre history in the back of my mind that I went to Masterson's performances of Under Milk Wood and Shylock, alternating this week at the Herald.
In Under Milk Wood Masterson faithfully performs the Dylan Thomas' day of the life in a small Welsh community, made famous by the 1954 Richard Burton-led broadcast. While it most usually performed for large casts, Masterson gives himself the challenge of inhabiting all 69 characters.
He has the easy-listening British stage voice, sucking on the words like treacle. He's been doing Under Milk Wood for years, and it is clear that that text especially is part of his bones.
Masterson casts his magic immediately in Under Milk Wood, as we, the only ones with our eyes unclosed, are led through the dreams of the town's inhabitants. The long-standing problem with this text for the stage is that is inherently an undramatic piece - there is bugger all conflict or growth, and nothing is different by the end of the day. Making it a solo helps to keep these flashes of lives engaging, as we admire the fluency of his expression. The perfectly evoked music by Matt Clifford also nudges it along. It can be easy to get lost in the wash of the characters, but easy enough to find one's way back. Though it helped orientate the audience, physically there was too much recourse to literal pantomime, and I began to long for some more surprising choices. Overall, it is a fitting vehicle to appreciate Thomas's craft.
Under Milk Wood is a beautiful, gently lulling, meditative experience. (James Wenley - Theatre Scenes - 20/10/16)
THEATREREVIEW NZ - (Port Nelson) 14/10/16)
"We are not wholly bad or good, who live our lives under Milk Wood" - surely words which we can relate to as people living in our own city of Nelson.
Much of the dialogue Dylan Thomas uses, comforts us, so we settle down to enjoy an evening of the happenings in the village of Llareggub, in Wales.
Tony Boncza directs with style and simplicity. A lone, slatted wooden chair sits spotlighted on the stage as we find our seats. Apart from a pair of dark glasses, this is the only prop and it substitutes for a pushchair, a soap box, a rocking chair, a woman hugging her man.
The lighting is excellent and enhances the production, especially when focused brightly on the character. There is the image, like shadow puppets, on the backdrop curtain. Sound effects, by Matt Clifford, are timely and appropriate although those in the audience who are hard of hearing are disadvantaged, at times, by the level of music which drowns out the dialogue for them.
As a seasoned performer Guy Masterson has skilfully mastered the art of performing sixty nine characters on his own. Apparently effortless and with great agility he switches from one to the next and back again. Although he has performed this play over two thousand times it is as fresh and polished as though it was his first.
The play opens at night, when the citizens of Llareggub are asleep, so Masterson is suitably attired in pyjamas. After the interval, morning begins and some of the audience are disappointed that the sole actor has not changed into casual dress. We are introduced to the townsfolk, taken on a journey, learn more about Llareggub.
Masterson draws the audience closer and takes us on an energetic and coquettish romp around the village. Then night begins and the citizens return to their dreams again. The full house laughs a lot and gives Masterson a standing ovation. A night to remember indeed. (Ann C Nighy 14/10/16)
OTAGO DAILY TIMES (Dunedin) 10/10/16
To begin at the beginning: It is spring, moonless night in the small town, starless and bible-black, the cobblestreets silent and the hunched, courters'-and-rabbits' wood limping invisible down to the sloeblack, slow, black, crowblack, fishing boat-bobbing sea...
Whoever remembers Richard Burton delivering these lines will be grateful to his nephew Guy Masterson for continuing the family tradition.
Under Milk Wood, a "Play for Voices'' by fellow-Welshman Dylan Thomas, evokes an everyday reality out of magical fiction. On Saturday night, Masterson brought that magic here; the audience was rapt, their standing ovation his reward.
In the first radio broadcast of Under Milk Wood in 1958, there were 27 voices, Masterson recounts in an interview (ODT October 1).
In this captivating revival of a play that has taken many forms in different media, his is the only voice, albeit divided among some 69 characters. Dressed in distinctly ordinary pyjamas, with two props, a beer mug and a chair, he enters the sleeping bodies and dreaming heads of people in the seaside town of Llaregyb (or Llareggub - read it backwards).
As they toss and turn in bed, cuddle a spouse, fight private battles, their unexpressed memories, misfortunes and desires are given voice in songs, rhymes and highly poetic prose.
Masterson's animated narration is accompanied by a soundtrack incorporating selected imagery. This suggests a balance that's been worked for: when to admit other senses to the experience, and when to leave the text well alone?
I certainly enjoyed the monstrous night shadows cast by spotlights on the forestage. Both actor and audience relished the theatricality of this performance, the clowning, the suggestiveness, the irony. It's a classic: a day in the life of ordinary folk, conveyed in unforgettable words. (Helen Watson White - Otago Daily Times 10/10/16)
THEATRE REVIEW NZ (Dunedin) 09/10/16
The line at the Fortune Theatre goes out the door, down the stairs, along the street and around the corner. Everyone is eagerly waiting to see Under Milk Wood performed by Guy Masterson. They are not disappointed.
Under Milk Wood is a classic. Written by poet Dylan Thomas, it is replete with alliteration, similes and perfectly chosen verbs. It is not just the beautiful language that makes Under Milkwood memorable, it is also the truly wonderful characters. The play covers a day in the life of a small Welsh village called Llareggub: Dylan Thomas showing his attitude towards his fictional village by naming it bugger all backwards.
We start by entering the dreams of the inhabitants of the village, and immediately gain intimate knowledge of their fears and desires. As the day progresses we see little snapshots of the sixty nine mainly eccentric characters as their lives criss-cross over each other's, as they laugh and cry and dance and gossip through the day.
Popular characters include Mr Beynon the butcher going after the corgis, the adorable relationship between the Cherry Owens, Mr Pugh's murderous fantasies, Mrs Organ Morgan eating and gossiping as a pelican and the little girls skipping rope sequence.
Masterson takes on the phenomenal challenge of playing an entire village by himself with ease. Of course, it does help that he has performed this show since 1994. A truly staggering two thousand times. If you are wondering, there is no apparent evidence in the performance of his being bored with the script after so long. He allows the performance to flow along with the rhythm of the words and changes character so fast he barely seems to take a breath. He capitalises on the comedy in Dylan Thomas' gleeful sense of humour.
Matt Clifford has designed wonderful music and soundscape for this show. The lighting design is simple and effective. The audience is particularly admiring of the giant shadows while Mr Pugh cavorts, and the flickering news reel effect for the guide book. The lighting and sound technicians, are more than just operators, they are an integral part of the show. Their timing and the scenes they create are fantastic.
Director Tony Boncza can be proud of the show he helped create as it ends in a standing ovation. Sadly, there is only one performance of Under Milk Wood in Dunedin. If you missed out, you may be lucky enough to get one of the last couple of tickets for Shylock – also performed by Guy Masterson at 2pm on Sunday the 9th of October. (Kimberly Buchan - Theatre Review NZ 09/10/16)
ADELAIDE FRINGE 2015:
UNI/ON - Adelaide Norwood Concert Hall - 21/02/16
Dylan Thomas' radio play Under Milk Wood vivisects the lives of the townsfolk of Llareggub, a fictional Welsh town, exposing through a passel of voices the gossip, ambitions and tragedies of provincial life. Starring Guy Masterson, this production of Thomas' play, staged at Norwood Concert Hall, and presented by Joanne Hartstone, is special because its host of over thirty characters is played by a single actor, Masterson himself.
Masterson approaches his herculean task in two ways: firstly he makes an unforgettable sartorial statement and sports a comfortable pair of stripped pyjamas; secondly, he transitions with feline nimbleness between characters, flashing into new and familiar poses, aided by expert alterations of lighting. One moment he is Organ Morgan dancing on the organ in his dreams; next he is young Gwennie, a schoolgirl who terrifies boys with the dilemma of giving her either kisses or pennies; now he is blind Captain Cat reclining on a wooden chair as he weeps at the memory of the friends and lovers he has lost. To see a man pass through the entire gamut of human emotions is to be pleasantly astonished.
Stage light, shinning up at Masterson, casts his prodigious shadow on the backdrop so that at times the stage takes on a dream-like quality, while a musical track infuses the few moments of solemnity with apposite grandeur. The only complaint one might voice is about the venue of the production. Norwood Concert Hall, though doubtless beautiful, is too large for a single man to strut up and down the stage, sometimes with his back to us, without a microphone. Masterson's voice, audible enough, sometimes loses its clarity and the play's lovely words fly up incoherently to be lost somewhere near the hall's lofty ceiling. A smaller venue, or the use of microphone, might have benefitted the production.
This performance was not without blunder. Several errors in the sequence of lighting and music obliged Masterson to call out to the light board operators. He managed this with such thespian grace, however, that no one seemed to mind. There was one more diversion from Thomas' text: after cavorting in circles as an impish schoolchild, Masterson appeared puffed out, chuckled to himself and confided, 'I've done this for twenty years'. His decades of experience have certainly paid off. Masterson's evocation of Thomas's work is heartfelt and selfless, paying tribute to the great Welsh poet through biblical familiarity with the text and through inexorable energy and will. The union of so many voices in one man binds together Thomas' unique characters who do, after all, share the same plot of earth and are made of the same stuff. Masterson's humane performance exudes this. (Daniel McLean - Uni/on - 21/02/16)
EDINBURGH FRINGE 2015: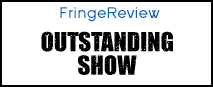 FRINGEREVIEW.COM 24/08/15 (Semi-Skimmed version)
If you have not seen this amazing one-man extravaganza, you are missing one of the most spectacular performances on the fringe this year and every year it has been performed. Guy Masterson has created this rendition of Under Milk Wood over 2000 times since it was premiered in 1994 and the show never fails to stun the audience. He manages to become every character in the piece as he describes the dreams and aspirations of the inhabitants of Llareggub, a fictional, small Welsh fishing village. They include Mrs. Ogmore-Pritchard, relentlessly nagging her two dead husbands; Captain Cat, reliving his seafaring times; the two Mrs Dai Breads; Organ Morgan, obsessed with his music; and Polly Garter, pining for her dead lover. Later, the town awakens and, aware now of how their feelings affect whatever they do, we watch them go about their daily business.
The show opens with Masterson standing on a chair wearing sunglasses saying 'To begin at the beginning: It is spring, moonless night in the small town, starless and bible-black, the cobble streets silent and the hunched, courters'-and-rabbits' wood limping invisible down to the sloe black, slow, black, crow black, fishing-boat-bobbing sea', and off he goes exploring the inner workings of the myriad of characters in the town. The music, lighting and sound effects enhance the narrative but nothing will ever compare with Masterson's own dramatic powers. The village and every inhabitant come alive as he recreates Dylan Thomas's magic with words. 'Only you can hear the houses sleeping in the streets' he says and his words bring the town awake and the characters to life. Mrs. Cherry Owen merrily rehashes her husband's drunken antics. Butcher Beynon teases his wife during breakfast. Captain Cat watches as Willy Nilly the postman goes about his morning rounds, delivering to Mrs. Ogmore-Pritchard, Mrs. Pugh, Mog Edwards and Mr. Waldo ('It's another paternity summons, Mr Waldo!'). Children play in the schoolyard; Masterson becomes little Gwennie and the boys she teases when she urges the boys to 'kiss her where she says or give her a penny.'
Dylan Thomas's prose is always a joy to the senses. His words are actually tactile. Under Milk Wood was conceived when Thomas was staying at New Quay, Cardiganshire, in West Wales, one winter. He went out early one morning into the still sleeping town and verses came to his mind about the inhabitants. He wrote the account of this as a short story named Quite Early One Morning (recorded for BBC Wales on 14 December 1944 and broadcast 31st August 1945). He continued to work on the idea for the remaining eight years of his life.
The magic of this production is in the directing, the pace and the staging. Masterson moves across the stage using all of it as his palette. He paints picture after picture of each villager in his movements, his voice and his expression. One could listen to the words he says with eyes shut and swear there were a whole cast of different people on that stage. You can identify each by Masterson's unique portrayal. It is this talent that sets his rendition apart from all the rest. He IS every person in the town and he never steps out of character. He seems to actually absorb each unique personality from the school children and little Billy to Mary Anne Sailors, 85 and proud of it.
But it is Guy Masterson's stunning performance that brings the classic story to life. Each time this reviewer sees and hears him, she is struck by the immense creativity and talent that pours from the man himself. When he does a performance at this festival, the audience is awed and well they should be. They are watching dramatic genius at work. Every performance is an individual masterpiece and always memorable. He is every age and every mood of each person in the town until the end of the day and it is time to go to bed to return to their dreams. This show is an delightful and amazing accomplishment not to be missed (Lynn Ruth Miller - FringeReview.com - 24/08/15)
PUNTERS' REVIEWS FROM EDINBURGH FRINGE 2015:
A fantastic show and an acting tour de force. Guy Masterson plays all the roles and really brings the characters to life. Performances of this play always run the risk of being performed in the shadow of the original radio performances with Richard Burton but this new take stands alongside those tremendous performances. Recommended. 5 stars! (Iain Kitt 28/08/15)
Saw this today and was blown away by many aspects of this performance. One actor playing all parts, remembering all the lines, acting each character superbly, filling the hall with voice and characters, bringing laughter and tears and the wonderful words of Dylan Thomas condensed and edited down to a wonderful 60 minutes of brilliant performance. Most entertaining. I love this piece, the play for voices and the story it tells of the fictional village of Llaregub from dawn to dusk and I don't think I've seen a better performance. You must see this for the acting tour de force that it is and for the brilliant delivery of the best of Dylan Thomas. (Jeff Jenkins 24/08/15)

PUNTER'S REVIEW EDINBURGH FRINGE 2014:
"A masterful performance of Under Milk Wood. Masterson plays every character and gives each of them an individual persona and voice and performed the show non-stop without (as far as I could tell) missing a word or changing the order of Thomas' play. Under Milk Wood is, to my mind a poem, exploring glorious use of language to tell the audience about the lives and dreams of its inhabitants on a single spring day and if there was any criticism to level it was that it was all performed quite fast, so the brain sometimes struggled to process what it was hearing whilst the play rolled on at speed. There were some technical issues where the fast changing lights, used to emphasise two alternating people in a conversation were not quite in time with Masterson's speedy rendition and this was distracting - but not all together surprising since this was a one off performance and no doubt the tech crew felt under pressure when Masterson, who has performed it over 1500 times, did not. An outstanding demonstration of the actors' craft performed with warmth and humour and deserving of the standing ovation it received." (Neil Iosson 11/08/14)
REVIEWS: ADELAIDE FRINGE 2009:
"Guy Masterson has, single handed, instilled into Adelaide audiences a deep love for the works of Dylan Thomas through his marvellous performances over the last few years of these texturally rich works. For the third year in a row he is playing to packed theatres with his unique rendition of Under Milk Wood, a glimpse of 24 hours in the life of a Welsh fishing village. Masterson has a deep understanding of this piece and in his superb and very physical performance he brings out all of the imagery in the descriptive sections whilst creating a myriad of quirky characters. Terrific!" (Barry Lenny - Ripitup Magazine, Adelaide, 10/03/09)





"The music that is Dylan Thomas never sounds sweeter than when it is delivered by an actor of the calibre of Guy Masterson. The many and varied characters who inhabit sleepy Llareggub stir to life with Masterson's epic efforts.
He wends his way through 69 dfferent characters, each distinct and different. With the backdrop of Thomas' beautiful words, Masterson uses his entire being to represent the people and surrounds of this 'typical' Welsh village.
This well presented production is enhanced by excellent lighting and background sound. Matt Clifford's soundscape provides a further depth to an already well developed production. Tony Boncza should be applauded for his well paced direction of something that is easy to overplay. Even if you have seen it before, this is a must see." (Fran Edwards - Adelaide Theatreguide 07/03/09)





"Guy Masterson returns to the Fringe with his wonderful interpretation of Dylan Thomas' story. Masterson handles the incredible workload expertly and with great affection. He plays every part with meaning, from Captain Cat, the blind old sea captain, to the children playing in the schoolyard. The conversations between Mr and Mrs Pugh are marvellous, but it is probably foolish to single out any single aspect of the show. I could almost see the street scenes from the village as the residents went about their daily business. For two hours, Llareggub was there before me. The simple, yet effective, lighting and sound augment Masterson's performance, and the whole thing is a joy to watch. There's one performance of Under Milk Wood to come - get your ticket now." (David Robinson - Ripitup Magazine, Adelaide, 07/03/09)





"Guy Masterson's one man production of Dylan Thomas's Under Milk Wood was one of the most popular performances at last year's Fringe and is one of the most critically-acclaimed to appear this year. All the praise this performances receives is well deserved.
Masterson somehow physically and mentally manages to perform all the characters in the play (approximately 50) with nothing more than a wooden chair, a small band of technicians and a pair of cotton pajamas. However, this is only half the achievement. He not only manages to perform all the characters in Thomas's sweeping portrait of a small Welsh town, but he manages to give each and every one a distinct personality. This not only makes viewing the play easier, as changes in gesture and voice make characters discernable, but it also allows Masterson to give life to the play's minor characters including The Postman, Organ Morgan and The Preacher.
Dylan Thomas is one of the most mythical literary figures of the 20th century and hearing Masterson deliver his lyrical dialogue and gorgeously articulated ideas about human triviality and the labyrinth of dreams is a wonderful experience. No theatre lover should deprive themselves of Milk Wood's enduring charms. Playing once more at the Royalty Theatre on 10 March." (Barlow Redfern - Adelaide Independent Weekly 05/03/09)
PUNTERS' REVIEWS ADELAIDE 2008:
Having seen many of Guy's performances in the past I had every expectation that Under Milk Wood would be a gem. I was not disappointed. Yes the words are brilliant and Guy's articulation of them excellent but what really staggered me was the use of his body to portray the characters and narrative. A wonderful theatrical experience. (John H)
2 years ago, someone said I should have seen Under Milk Wood with Guy Masterson. Thank goodness he did it again. I have never seen such a fantastic, energetic, mind boggling performance. He dances, sings and becomes the voices of what must be well over 50 characters. You really feel you are in a front bar, bedroom or street corner observing the wondrous array of Dylan Thomas' villagers. Of course the play's the thing, but Masterson brings Thomas' poetry to life. Superb! Don't miss the last show. (VinylCutter)
Guy Masterson, in his signature role, brings to life the inhabitants of Milkwood as they go through their day. Dylan Thomas' writing allows you to see not only what is happening in these people's lives, but also what is going on in their heads. This is not a plot driven piece but rather a snapshot of a small wedge of life. Originally written as a radio play, the characterisations and action in this version are all Masterson's and are a superb showcase for his talent. (Mia)
Welsh, warm and wonderful. What a challenging piece of writing for an actor to bring to the stage as a one man show and I can't think of anyone other than Guy Masterson who could pull it off! I am in awe of you Guy - Bloody Brilliant. You're a legend! (Charlies Angel)
I agree with grantos@fringe's review. I love Masterson, but found myself a little sleepy in the middle of the first Act (was it the stifled heating or the intense one man show?). Nevertheless, after a coffee in interval, I was mesmerised by Masterson's incredible energy to effortlessly portray & interchange between 20+ characters. Although it was a little hard to follow at the start, you need to appreciate that UMW is originally an ensemble radio play (which depicts a 'slice of life' from the town of Milk Wood). For one man to do it alone, & successfully so, gets my vote. (Jamie H)
This show is brilliant! Masterson's performance rightly commands the respect it deserves. Once I'd acclimatised to the wonderfully lyrical language I was absorbed to the very end. A special commendation to some simple yet devastatingly effective lighting and sound. (grantos)
I thought that Richard Burton's version of Milkwood was the definitive till seeing Guy's version. Mesmerising and athletic performance by a fellow Welshman who truly appreciates and understand the soul and wit and brilliance of Dylan Thomas. Masterson interprets Thomas' language with intelligence and verve. I have now seen this show twice; the second time with sound effects added.A great performance of a masterpiece of theatre. How sad Dylan Thomas died so young of the demon drink. A must see!!!!! (Fringer)
REVIEWS: ADELAIDE FRINGE 2008:





ADELAIDE THEATRE GUIDE (07/03/08)
The music that is Dylan Thomas never sounds sweeter than when it is delivered by an actor of the calibre of Guy Masterson. The many and varied characters who inhabit sleepy Llareggub stir to life with Masterson's epic efforts.
He wends his way through 69 dfferent characters, each distinct and different. With the backdrop of Thomas' beautiful words, Masterson uses his entire being to represent the people and surrounds of this 'typical' Welsh village.
This well presented production is enhanced by excellent lighting and background sound. Matt Clifford's soundscape provides a further depth to an already well developed production. Tony Boncza should be applauded for his well paced direction of something that is easy to overplay. Even if you have seen it before, this is a must see. (Fran Edwards)





RIPITUP MAGAZINE (07/03/08)
Guy Masterson returns to the Fringe with his wonderful interpretation of Dylan Thomas' story. Masterson handles the incredible workload expertly and with great affection. He plays every part with meaning, from Captain Cat, the blind old sea captain, to the children playing in the schoolyard. The conversations between Mr and Mrs Pugh are marvellous, but it is probably foolish to single out any single aspect of the show. I could almost see the street scenes from the village as the residents went about their daily business. For two hours, Llareggub was there before me. The simple, yet effective, lighting and sound augment Masterson's performance, and the whole thing is a joy to watch. There's one performance of Under Milk Wood to come - get your ticket now. (David Robinson)
ADELAIDE INDEPENDENT WEEKLY (05/03/08)
Guy Masterson's one man production of Dylan Thomas's Under Milk Wood was one of the most popular performances at last year's Fringe and is one of the most critically-acclaimed to appear this year. All the praise this performances receives is well deserved.
Masterson somehow physically and mentally manages to perform all the characters in the play (approximately 50) with nothing more than a wooden chair, a small band of technicians and a pair of cotton pajamas. However, this is only half the achievement. He not only manages to perform all the characters in Thomas's sweeping portrait of a small Welsh town, but he manages to give each and every one a distinct personality. This not only makes viewing the play easier, as changes in gesture and voice make characters discernable, but it also allows Masterson to give life to the play's minor characters including The Postman, Organ Morgan and The Preacher.
Dylan Thomas is one of the most mythical literary figures of the 20th century and hearing Masterson deliver his lyrical dialogue and gorgeously articulated ideas about human triviality and the labyrinth of dreams is a wonderful experience. No theatre lover should deprive themselves of Milk Wood's enduring charms. Playing once more at the Royalty Theatre on 10 March. (Barlow Redfern - Adelaide Independent Weekly 05/03/08)
ADELAIDE FRINGE PUNTERS' REVIEWS 2008 (source: www.talkfringe.com.au)
A fantastic theatrical experience. It is amazing what Guy Masterson can achieve with sunglasses, a chair and changes of voice, facial expression, body posture and light. He presents the over 60 characters in Dylan Thomas' work so you imagine them before you. On a hot afternoon he was bathed in sweat but kept up the pace for two hours! A great pity there were only two performances during the Fringe. Certainly a must for every student of English language - this is how it should be read / said. (EmCee)
There is little I can add to what is below except it was ****** FANTASTIC. One show left. SO GO... and go and see his AMERICAN POODLE - Oh, and FOLLOW ME... Oh yes and GOERING'S DEFENCE - oh and PLAYING BURTON... what's up with this guy. Does he have a life? GREAT - TRULY GREAT - STUFF. (SillyBilly)
I saw this show for the second time at this year's Fringe and it was even more intoxicating than the first time. an amazing journey of imagination capturing the humanity of 69 different characters- funny and very moving. Loved it- tell everyone! (Lara Dignam)
Seanitall said everything I was going to write. Guy Masterson was truly incredible - see the show or regret it forever. (DLSM)
Oh my god. If you haven't bought your tickets for next monday's performance DO IT NOW!! This was INCREDIBLE. Held nearly a full house at the Royalty spellbound for nearly two hours. At the end you could have heard a pin drop. Words almost fail me how good this is. Dylan Thomas may be a genius, but Guy Masterson made me see this. You can't take your eyes off him. Truly magnificent. Thank you. (Seanitall)
Truly I did wonder before the show how it could possibly be done, Under Milk Wood a one man show? It's not only possible its incredible, riveting, funny and so believable. A pair of pjs, some sunnies, a stool and one amazing performer in Guy Masterson. If you love the rich language of Dylan Thomas you wont be dissapointed. (Marls)
REVIEWS: EDINBURGH FRINGE FESTIVAL 2007:





EDINBURGH GUIDE (15/08/07)
Just occasionally we are reminded what Fringe Theatre is really all about - brilliant performances and the very best of theatre production. Yesterday between 2.15 and 4.15 in the Assembly rooms, I had the great privilege of attending a masterclass of Dylan Thomas's Under Milk Wood by Guy Masterson. Productions of this all-too-rare calibre, give us the yardstick by which all future reviews will be measured. Guy Masterson two hour solo performance of Thomas' major work Under Milk Wood does not have a parallel, it stands on its own as easily the best production of this piece by any actor. Burton may have had the voice, but Masterson's physical portraits of almost seventy characters, kept a full house in the Music room on the edge of their seats. An audience, I must add who were, in majority, senior enough to have been aware of the original Burton production and were no strangers to Dylan Thomas's wonderful canon. Guy Masterson's love of Thomas's work was very evident in his 2001 Fern Hill production, but as brilliant as it was, it came a poor second to this wonderful performance. The physical comic portraits by Masterson, of all characters from Mr and Mrs Pugh to the child Gwennie Gwennie were all given individual colours and brush strokes to create a composition to rival Marc Chagall's masterpiece I And My Village. The greatly deserved standing ovation that he received at the end of his extraordinary two hour performance speaks more eloquently than any words this reviewer could scribe. Thank you Mr Masterson, for reminding us why we should love great wordsmiths and superb theatre. If you see no other theatre performance at the Fringe, and you see next Monday's only other performance you will see the very best that the Edinburgh Festival has to offer." (John Richie)





BRITISH THEATRE GUIDE (21/08/07)
Actor Guy Masterson has become one of the Fringe's leading theatre producers with a growing list of popular and critical successes, but he dates the beginning of his success to this remarkable one-man show that he first performed in February 1994.
Dylan Thomas's 'play for voices' describes in wonderful poetic language a day in the fictional tiny Welsh village of Llareggub from before anyone is awake until the time they all return to their beds. It is written to be told by two narrators, referred to as 'first voice' and 'second voice', but also weaves into the story a cast of 69 beautifully-drawn characters, from the old blind Captain Cat dreaming of long dead loves and colleagues to lovers-by-correspondence-only Miss Myfanwy Price and Mr Mog Edwards to Polly Garter and her babies from different fathers to Mr Pugh who dreams of poisoning his wife.
In the programme, Masterson says he was influenced by the work of Berkoff to create a physical theatre production of the play after 'having been a "neck-up" actor for my entire career'. There is certainly a great deal of physicality to his performance, but this is more a vocal tour-de-force than a physical one. There are physical and vocal differences between the characters, but they are not all immediately and uniquely identifiable; however this does not at all detract from the clarity of the piece, which Masterson sings out over the packed auditorium without causing any doubt about who is speaking or being spoken about at any time. There are some lovely touches in his performance that really bring out the humour in the piece and also create some genuinely moving moments.
Matt Clifford's sound cleverly weaves sound effects and music around the words in a way that subtly enhances the whole piece. There are many one-man shows on the Fringe and many that claim to perform a whole story, play or film, but this is the real thing. In about an hour and three quarters with just one performer and a chair onstage, there are no dull moments, and the fact that one person can sustain a gripping performance at such a pace for this length of time is very impressive." (David Chadderton - British Theatre Guide, 21/08/07)
ADELAIDE FRINGE FESTIVAL 2007:





THEATREGUIDE.COM (15/02/07)
"Dressed only in a pair of pyjamas, Guy Masterson takes to the stage and creates an amazing variety of characters in this classic Dylan Thomas play.
As this was originally performed on radio, the language is descriptive, and each character is formed out of the text, enabling Masterson to slip seamlessly between all of the characters and both narrators!
Masterson is a brilliant performer, and holds the audience spellbound through the one and three quarter hours of the show. Whether he is playing Captain Cat, the old, blind sea captain, or Mrs Ogmore-Pritchard dreaming of her dead husbands, his portrayals are completely convincing.
The only set is a wooden chair, and the only props are a pair of sunglasses and a pair of drinking glasses. Using stark lighting with no colour in the rig, haunting shadows are cast on the black walls of the theatre, and a soundscape by Matt Clifford complements the text.
What happens in a day in the village of "Llareggub?" Spell it backwards! Never has nothing happening been so spellbinding, entertaining and enjoyable." (Simon Slade)
PUNTERS' REVIEWS: ADELAIDE FRINGE 2007:
Stunning. That one man can create a visual picture of a village, fill the stage with characters and do so with love of the language, is beyond belief. Glad I gave up the theatre years ago this man has more talent than any other 5 actors I know! A dream performance that brought tears of joy. Oh what Dylan Thomas could have done if he had lived longer. (Pete Whetton)
This is simply a five pig show. Possibly the best offering of Fringe 07? (Squealer)
This was incredible! (See my review for Fern Hill!) Very little can be added except that he has to be the most exceptional performer we have on the Fringe this year? Or, given his 12 Angry Men in 2004 and his Milk Wood last year... EVER? Go and see this. It is extraordinary. (Fred Fringe)
Amazing performance - I was stunned by this artist's ability to memorise nearly 2 hours of monologue, let alone his physical and emotional portrayal of the village characters. Well done!! Perspiring in pyjamas clearly better than a 3 piece suit! If you love Dylan Thomas, definitely see this. (MitchDJ)
This was hugely enjoyable, I liked some of the quotes about life and death, and it was easy to paint a picture of this town. (Emma)
I saw this tonight. The place was PACKED with people sitting in the aisles. The temp must have been over 30 in there and he did not miss a beat! Dripping wet for nearly two hours, he held us enthralled. Simply extraordinary! I've never seen anything like it. The words tumbled out of him in one huge lyrical splurge! It is a stunning piece of theatre. My hat is off to you Mr Masterson. Your energy and invention know no bounds! (Sylvia Marsh)
Fabulous Acting. 5 Stars for the acting. I hadn't read or heard the play so it took a while to get my head around it. After reading about the play afterwards appreciated it even more. Great to see. (The Dude)
A brilliant piece of theatre. Masterson's energy does not drop in the 105mins he is on stage, transforming from character to character wonderfully. The physicality coupled with the honesty of Masterson's performance paints a beautiful, touching picture of a day in the life of the townsfolk. A must-see! (Kate)
I want to be an actor but after seeing this, I'm not sure I will ever be. Words cannot describe the virtuosity and versatility of this performer! A body that can play young girls and boys, sexy women, angry men, sad old sailors, whores, tramps and a voice that seems to have no bounds. And a genius memory! Part of me wants to give up the dream. The other wants to just do it. Masterson throws all of himself into his shows but it's never too much. So I will too. Totally inspiring. GO GO GO! (Actorboy)
Guy Masterson is astounding. He plays all the characters and slips seamlessly between them. (Simon Slade)
I saw this last year and was blown away and I simply can't agree with Lynn. The performance alone deserves 4 stars even if you don't like one-man shows. I am recommending this to anyone and everyone. We are lucky to have a performer of Guy Masterson's callibre at the Fringe. In Australia! He's an extraordinary talent of the sort that you only see rarely in life... So go and enjoy! You'll not regret it. (Georgie)
TRON THEATRE, GLASGOW - November 2006:




THE SCOTSMAN (17/11/06)
"There's no denying that Guy Masterson's solo version of Dylan Thomas's "play for voices" is a piece with a pedigree, performed to acclaim at the Edinburgh Fringe, in the West End and around the world.
Completed months before Thomas's death in 1953, Under Milk Wood is an exuberant account of the deeds and imaginings of a small Welsh coastal community on a single spring day. Its combination of bold comic characterisation and playful linguistic panache offer vivid opportunities in performance, but demand tremendous energy and skill.
Masterson's interpretation is an Alpine achievement, of which memorising almost two hours of monologue is merely the foothills. What's remarkable is that he tackles it not with an ice-axe, but with a loving caress. Clad in striped pyjamas - suggested by the opening sequence, in which the town lies dormant and dreaming - he requires only a pair of dark glasses and a chair to usher its 70-odd citizens through their day.
At the heart of his approach is an affection for the characters: he embraces each one in turn like an old friend, placing his flesh and his voice at their disposal. The scheming wife-poisoner Mr Pugh is incarnated as vigorously as the frisky teenager Mae Rose Cottage, and Masterson makes astute use of tiny idiosyncrasies and adjustments of posture to delineate his enormous cast. Yet however fully he abandons himself to them, we never quite lose sight of the narrator's puckish guiding spirit.
In 2003, this show gained an important new element: a soundtrack by Rolling Stones collaborator Matt Clifford. This complements Masterson's bravura effort beautifully, providing not only a score for music obsessive Organ Morgan but also a host of minute aural enhancements. The precision with which these - and the dramatic changes of lighting - are timed emphasises the skill underlying this apparently effortless performance. In fact, Masterson did seem a little under par on this occasion, his booming Welsh vowels perhaps a touch less sonorous than they might have been, but there's no arguing with the joyful vivacity and tenderness he brought to Thomas's sprawling and unruly brood." (Andrew Burnet)
ADELAIDE FRINGE FESTIVAL 2006: (Union Hall)





DB MAGAZINE (01/03/06)
"With nothing but a white chair, an old pair of striped pyjamas, and a poetic script, Guy Masterson creates the entire village of Milk Wood. All in all it's an inspirational solo performance of Dylan Thomas' lyrical text 'Under Milk Wood'.
We're taken through the cycle of one day in Milk Wood, the classic Welsh seaside town. The town's inhabitants begin asleep, dreaming their dreams, and then slowly as they wake we're introduced to their lives as well. Nothing out of the ordinary happens on this particular day in Milk Wood but you're still riveted to your seat.
Masterson produces many different characters from the young child with his mother to the old blind man listening to the children in the street. Each character has their story and their relationships with other characters but each is equally enjoyable to meet. Because of the poetry and clever character work of Masterson, you're never confused as to what is happening, even when we are allowed into the private thoughts and the public front of Mr Pugh while he eats his breakfast with Mrs Pugh; all played simultaneously by Masterson.
The clever and simple design allows the mind to explore the imagery that the text creates. The lighting follows the sun, creating a marvellous and long shadow of Masterson on the crisp black curtain behind him, enlarging his skilful antics." (Toni Main)





ADELAIDE ADVERTISER (28/02/06)
BEAUTIFUL SOLO PERFORMANCE... "It's hard to imagine the small Welsh fishing village of Under Milk Wood finding a more affectionate voice for its community than Guy Masterson. The actor coaxes, caresses and cajoles into life more than 50 characters in Dylan Thomas's enduring protrait, in a performance of almost unnatural physical grace.
Masterson's lilting Welsh accent and sonorous voice were made for Thomas' writing. The revelation is the way he uses the bulk of his pyjama-clad body to convey a world of human experience, from children playing, to women weeping, to drunks roaring.
At times Masterson seems to float on stage like imagination personified... It's a beautiful solo performance..." (Louise Nunn)





ADELAIDE INDEPENDENT (27/02/06)
POETIC & INTENSE... "Guy Masterson does a msterful one-man turn as the 69 different characters in Dylan Thomas's classic Under Milkwood. With nothing more than a stage, a chair, well-timed lighting and music, and his and Thomas's extensive talents, Masterson is energetic, articulate and entertaining. It's a tough act to pull off: nearly two hours - without interval - of poetic narrative and shifting between characters; But Masterson never tires, never flinches, never wanes. Suddenly, a canonical work enshrined in the British national syllabus becomes fresh again, without the cheeky tendency toward modernising, never detouring far from Thomas's original intention. Be prepared to be immersed, and to afterward rush home to dust-off old your copy of Thomas from your library's upper shelf." (Miguel Syjuco)
PUNTERS' REVIEWS: ADELAIDE FRINGE 2006: (Source: www.talkfringe.com)
Had heard about the show when I was in Edinburgh in 2003 but didn't see it. I saw his 12 Angry Men there and here and it was fantastic! I didn't get until he told us at the end that he was in it! This guy's amazing! Brilliant performer, director. His one man Milk Wood is incredible. As an actor, you could be either inspired or completely put off by this man because he almost too good to be true. But its true. It is an amazing performance of a great piece of writing. All actors should see this. (Blokey - 06/03/06)
Theatre doesn't get better than this! A must see. Astonishingly rich words delivered by Guy Masterson in a highly entertaining style that had me laughing a lot. He didn't skip a beat in a performance that takes a lot of energy and MEMORY like you probably didn't know a person was capable of. (Dijana - 05/03/06)
This was INCREDIBLE! A standing ovation from nearly the entire audience said it all. Guy Masterson was dripping wet after 5 mins and didn't stop for another 100! What a memory and performance. Nothing on stage but him and the words. The best I've ever heard. Amazing! (Joy To Behold - 07/03/06)
Wow. A beautiful piece of theatre, beautifully performed. This was my first introduction to Dylan Thomas' work, and what a powerhouse of an introduction it was. Wednesday is the last night - go see it! (Boots - 07/03/06)
OK... nearly all the reviews for this guy are from babes... YOU CAN SEE WHY! This guy is sweet! Not your normal sex god - but WOW... after ten minutes he has you eating out of his hand! He is amazingly sexy as girls and boys. His nuance is shocking! I was completely blown away. Go see him girls... Sorry, it finished tonight... Ha ha! He'll be back... we hope! (Wow Babe - 08/03/06)
This has been the highlight of the Fringe for me. I know the original Richard Burton version quite well, but this was even better, and provided a startlingly fresh insight into Dylan Thomas's 's genius. 12 Angry Men, now this. What next? I cant wait.. (Miray - 09/03/06)
Nice reviews! I would agree with most of the comments below. I went when there was obviously a problem with the lights and the microphone, but Masterson didn't seem to mind! 102 mins is long for a fringe show, but I don't see how you could leave anything out of this. But it was so entertaining that the time did not matter. Music fantastic. Writing superb. Performance terrific. My first show and could be the best! (Elisabeth - 01/03/06)
WOW! This was a surprise. I was taken by my boyfriend and had no idea what I was coming to. I thought it was stand-up! My hat comes off to you Mr Masterson! A performance like nothing I have ever seen. Dylan Thomas is awesome. SO funny! And Guy M is amazing. A beautiful voice and his mime and movement were perfect. He was especially good that the girl parts! And Matt Clifford's music really set off the words nicely. A really wonderful evening! Thanks! (Joanna B - 28/01/06)
Technical difficulties aside, this was amazing! Got in for free, but wish I'd paid now. Could be the best perf on the fringe. One bloke, a pair of pajamas and a chair! Awesome dude! (TechnofreaK - 28/02/06)
I have NEVER seen anything like this! I thought I knew Milk Wood, but I had only scratched the surface. It is sooooo beautiful to listen to and Guy Masterson is quite extraordinary to watch. I gather he's been dong this for some time (10 years?) and you can tell. He is totally inside it. He IS it! The reviews on his programme said it all. If I hadn't seen it, I wouldn't have believed it! Go, go, go! (A Tidy Wife - 28/02/06)
Great perfomance, apart from the problem with the mike half way through. Guy did a fine job handling it without missing a beat, but it was a bit distracting (unfortunately). Also difficult to follow consistently but the 'script' was so evocative and Guy's performance so energised that it kept drawing me back in. Wonderful stuff! Inspires me to re-read the original. (Halcyon - 28/02/06)
If you like your actors to work, and work hard, then this is the show for you. One man, an entire town of characters and 100minutes to convey a 24hour period (dreams and all). Interesting and sombre, funny and sad." (Cassandra - 27/02/06)
Utterly compelling genius writing and an amazing performance from a master. I was intrigued how one person could do the whole thing on his own, but within seconds he had me eating out of his palm! A mesmerising lesson in performance! I'm gobsmacked! (Natasha - 27/02/06)
WALES MILLENNIUM CENTRE - JANUARY 2005:





THEATRE IN WALEWS (12/01/05)
"There is no doubt that Guy Masterson is a consummate man of the theatre. His company has produced nearly forty productions since its inception in 1991. He is a major force at the Edinburgh Fringe Festival where his productions have won many awards including best Actor in 2001 for his solo performance in Dylan Thomas "Fern Hill".
Here in this remarkable and brave one-man presentation of Thomas' most famous 'theatre' piece he demonstrates a great command of stage techniques that animate and enhance the work. With great skill he manipulates every part of his body to express the emotions of the characters as he brings them to life.
We see only one man in a pair of, rather bedraggled pyjamas, which presumably he has 'taken from the drawer marked pyjamas', but he paints some real pictures of the characters he displays before us. His gentle, echoing singing of Polly Garter's song is extraordinarily effective, he mimes the ringing out of her damp cloth, as she washes the floor like a conjurer producing a magic bunch of flowers. There are many other physical moments that are equally effective and often very amusing.
Curiously the single voice performance allowed one to concentrate on the writing more clearly than a fully cast presentation and in the 250 seat Weston Studio a much more intimate relationship with the work was established. Dylan Thomas' words draw his characters so clearly and he puts then all into such familiar settings that they all become people we know about, some even our relatives or friends! It is also remarkable, despite the possible accusation of Welsh stereotypes, which I personally don't support, many of us here in Wales are pretty stereotypical anyway, however individual we all may be, how contemporary many of Dylan's human characteristics remain and probably always will.
The actor is supported by inventive and sensitive direction by Tony Boncza and the recent addition of music and sound effects by Matt Clifford and the lighting of the simple black box stage complete a very satisfying and pleasing aesthetic.
There is no doubting Masterson's enthusiasm and passion for the work. He communicates with no little flare and with very real charm. His energy and commitment involved us with the exploits of the characters.
He has been performing the work since 1994. There is an extraordinary and even greater than ever demand on an actor's concentration in reviving a work that has been in his repertoire for such a long time; Masterson succeeds extraordinarily well." (Michael Kerrigan)
REVIEWS: EDINBURGH FRINGE FESTIVAL 2003:





DAILY MAIL (04/08/03)
"The sight and sound of Guy Masterson performing Thomas's masterspiece is electrifying. All 69 voices spill form the lips of an actor whose talents are a fitting 50th anniversay tribute to those of the Welsh wizard himself in this refurbished production. No matter how hard you pore over the programmne, you will not find a finer performance in the whole Edinburgh Festival!" (Jeremy Hodges)





THE HERALD (11/08/03)
"Marking the 50th Anniversary of Dylan Thoma's death, fellow Welsh man Guy Masterson's solo interpretation of Under Milk Wood is an incredible performance. Playing all 69 charaters with outstanding stamina and understanding, Masterson embraces the mammoth task of playing the quaint and cheery citizens." (The Herald 11/08/03)





METRO (15/08/03)
THE CREAM OF THE CROP!
"Guy Masterson's much celebrated one-man performance of Dylan Thomas's Under Milk Wood was created in 1994 and returns revamped with a fabulous score by award-winning composer Matt Clifford. From the outset it is utterly spellbinding. But the real trumph is Masterson's vocal precision, which, alnog with a wonderful range of gestures and movements, allow the audience to really feel they have experiences life in the village and shared desires and dreams of the inhabitants." (Andrew Burnett)





THREE WEEKS (21/08/03)"Striking a mildly comical figure, the pyjama-ed Masterson begins to speak and is immediately possessed by the magic of story telling. It's a huge task to sustain such a incoherent story, but Masterson casts a spell over us. Simply bewitching!" (Three Weeks 21/08/03)





THE SCOTSMAN (23/08/03)
THE SOLO VIRTUOSO. "Just the 69 characters then? Guy Masterson is everyone of them in Dylan Thomas's enduring play of voices, and somehow makes it all add up!" (Scotsman)
HONG KONG TOUR - JANUARY 1997:
SOUTH CHINA MORNING POST (27/01/97) "One man in pyjamas held us spellbound with a masterly display of multi-character performance storytelling moving seamlessly from character to character with highly disciplined fluidity of voice and movement." (South China Morning Post - HK 27/01/97)
NEW ZEALAND TOUR - MARCH 1997:
THE DOMINION, WELLINGTON (25/02/97)
"Masterson's energy and invention know no bounds. with economy, precision and grace he portrays every nuance of Thomas' play for voices. The speed and clarity of his delivery are astonishing. Her rarely pauses, always maintaining a strong narrative flow. He is a wonderful performer, completely attuned to his text." (The Dominion NZ 25/02/97)
PRIMIATIKINI THESSALONIKI - INTERNATIONAL FESTIVAL OF SALONIKA 1996:
KOUINTA JOURNAL, THESSALONIKI (15/04/96)
"On the stage of the Amalia Theatre sound and movement were united in one body. Masterson shifted effortlessly from one persona to another with the dexterity of a magician unfolding the charm of language to put us firmly under his spell." (Kouinta Journal, Thessaloniki, Greece April 1996)

EXOSTIS JOURNAL, THESSALONIKI (15/04/96)
"With an incredible undiminished rhythm and fascinating movement, Masterson painted all the scenes. His characters generously offered us their laughter, their innocence, their embarrassment, grief and despair. He remained immediate, real and true to the text throughout." (Exostis journal, Thessaloniki, Greece April 1996)

INDIA TOUR OCTOBER 1996:
THE PIONEER - NEW DELHI (18/09/96)
"Under Milk Wood proved to be a brilliant theatrical nugget ... Masterson's performance was devoid of exhibitionism ... put simply his talent consists of an incredibly wide vocal range, a sharp ear for accents and speech inflections. On his visually neutral stage one experiences the mischievous humour the indulgent empathy and the abundant lyrical joy emanating from Under Milk Wood ... it is only by subtracting everything which is not essential that Masterson is able to clear a space for projecting his own vibrant theatricality." (The Pioneer, Delhi, India September 1996)
RIVERSIDE STUDIOS - NOVEMBER 1994:





THE TIMES (05/11/94)
"There has been no shortage of stage performances of Under Milk Wood, but this is the most fully realised I have ever encountered. Apart from dark glasses, Masterson's only prop is a chair yet with astonishing vocal control and choreographic precision, he conjures up every character." (Benedict Nightingale)





WHAT'S ON IN LONDON (06/11/94)
"Every superlative is completely justified. Within a few seconds Masterson had me lapping up every single word and before long I was completely hooked. Masterson uses physical dexterity, thespian charm and genuine wit to flit instantaneously from one character to the next. A whole population flashes past you in ninety spellbinding minutes. Hilariously funny and poignantly sad by turns, this show is not only pure enchantment; it's also exceptional theatre. You feel that Masterson lives and breathes the humanity at the heart of Dylan Thomas's lyrical and most enduring work." (Donald Hutera)
LBC RADIO (05/11/94)
"Guy Masterson is truly impressive in the way he has completely re-invented Under Milk Wood for himself with great virtuosity and vivacity." (Lucy Longhurst)
WORLD PREMIERE - TRAVERSE THEATRE, EDINBURGH FEBRUARY 1994





THE GUARDIAN (15/02/94)
"Masterson rises to the challenge with tremendous sensitivity and panache. It's a feat of multiple characterisation, getting right inside the words, swelling them to their fullest extent while stopping short of over inflation. Masterson achieves this through a combination of impeccable timing, vocal dexterity and precise physical control. His smooth shifts in modulation and phrasing, his energetic yet carefully judged additions of gesture and movement, flesh out perfectly Thomas's balance of sweep and intimacy, tenderness and menace, poignancy and absurdity. His characters are assiduously delineated through adjustments in accent, inflection and mannerism. Thomas's bewildering descriptive wordplay is beautifully paced and weighted, frequently punctured by a shrewdly timed drop into pathos and laughter. It's an absorbing, richly entertaining venture." (The Guardian 14/02/94)





THE SCOTSMAN (15/02/94)
"Dylan Thomas's play for voices is associated for many with the actor Richard Burton, who's hero Thomas was, and who made the original 1954 radio recording. Guy Masterson, Burton's nephew, is too good and too wise, to attempt an impersonation. His solo performance is more complex and entirely theatrical, a combination of bravura acting and poetic story telling. Masterson plays all 69 men and women old and young, libidinous and sour; a murderous husband and his rancorous wife, a draper, a preacher and a pub owner, and more. Switching roles as quickly as it takes to draw breath, his performance is affectionate, feverish, wily and full of dark, mysterious Welsh imagination. Masterson has made Under Milk Wood his own." (Joyce McMillan)





BBC RADIO SCOTLAND - THE USUAL SUSPECTS (14/02/94)

"Absolutely wonderful... Intensely therapeutic, intensely uplifting. A tour de force of this man's talent... Guy Masterson is something exceptional."
(Maggie Lennon)





SCOTLAND ON SUNDAY (19/02/94)
"Guy Masterson creates a brilliant, impish flash of communication... He is able to create real pathos and beauty." (Joyce MacMillan)
THE HERALD (15/02/94)
"Performing with casual precision and physical grace, the language resonates, the laughs linger... Masterson makes it sing!" (Mark Fisher)
MORE AUDIENCE COMMENTS:
"Dear Mr Masterson. Thank you so much!!!!!! Yesterday, Thursday (March 23 2006), my wife, my son and I went to the theater in Arnhem to see you in Under Milkwood. I can't find the words to describe how astonishing, amazing, wonderful and enchanting (and funny) your performance was. When we sat down before you enterd we thought we only saw a chair and pint of water on stage. But already few minutes after you enterd it changed: there realy were streets and houses and bedrooms. There was a harbour and a sea. And all the persons living there were realy living individual characters. Each one with his/her own facial expression, his/her own way of walking, moving, speaking etc. How do you do that?? At the end of the performance we loved the little town and all of its inhabitants (also the less nice ones). It was a pitty that my wife and I had to leave right after the performance. We would have loved to meet you and talk to you and let you personally know what a thrilling experience this has been. But our son stayed and the next time he visits us he will tell us all about the "afterparty". Thank you very, very much!" (Joop van Rinsum Wageninigen, Holland Tour 2006)
"I went to see you last year at the festival doing Fern Hill & loved it. So I automatically went along to see Under Milk Wood and was simply blown away by it - being brought up in Swansea definitely adds to the experience! I can't express how exhilarating I found your performance and I hope you get the Best Actor Award because you bloody deserve it! Keep up the GREAT work!" (Gerry Cirillo, August 2003)
"Hello. I just wanted to contact you to say how fantastic your "Under Milk Wood" performance was. I saw you at the Edinburgh Festival last week. The show came highly recommended, and I in turn have enthused greatly about it to family and friends, and encouraged them to go if they can. I came without knowing the piece at all (despite marriage into a welsh family - shame on me). I was so moved by it and really just want to say Thank you. When I logged on to your website I saw mention of a limited offer to remember the 50th anniversary of Dylan Thomas' death. Is this a recording we can buy? If so I would really love to get one. I had planned to look into buying a recording of it. My one hesitation was that, lauded though Richard Burton's one may be, I felt it couldn't have the same passion, humour and joy as I enjoyed live. A recording by you would be so memorable - though I hope to see it again sometime! I would like to wish you all the very best." (Alexa Hughes - August 2003)
"I saw your Under Milk Wood at the Cheltenham Festival a couple of weeks ago, and it was one of the best productions I have ever seen. I would love to buy tickets as a Christmas present for my Dad! Thank you very much!" (Naomi Baars - October 2003)
Double CDs @ £11.50 including p&p for all orders delivered within the UK

International Delivery costs + £2.00 Packing are added to overseas orders

MP3 DOWNLOADS ONLY £9.00 (£1 discount if you have seen the live show!)

Payment can be made directly byto guypaypal@theatretoursinternational.com
or by BACS transfer (details will be sent with return email)

To order please email: cds@theatretoursinternational.comor TheatreToursInt@gmail.com

Please indicate clearly if you would like the MP3 Download or the hard copy Double CDs

IF DOWNLOAD: Please send an email to the above and make payment. You will be sent a personal link for download.

IF CD, please send an email with the number of copies, if you would like them dedicated personally by Guy Masterson and to whom, and of course your full postal address & telephone number. Payment must be received prior to dispatch.

Opening Monologue

"To begin at the beginning.... It is Spring, moonless night in the small town, starless and bible black..."

1.5Mb - 2.05 mins

Voice of the Guide Book

"Less than five hundred souls inhabit the thee quaint streets and the few narrow bi-lanes..."

1.1Mb - 1.32 mins

Polly Garter's Song

"I loved a man who's name was Tom, he was strong as a bear and two yards long..."

2Mb - 2.48 mins

Captain Cat & Rosie Probert

"What seas did you see, Tom Cat, Tom Cat, in your sailoring days, long, long ago..?"

3Mb - 4.20 mins

Multi-Character Excerpt
"Now, frying pans spit. Kettles and cats purr in the kitchens. The town smells of seawead and breakfast..."

1Mb - 1.25 mins
One the world's most successful and widely performed solo shows, this unique and remarkably simple production of Under Milk Wood brings Dylan Thomas' masterpiece to life. Often on English Literature Syllabuses, this is one of the most accessible productions on offer.
For students of English Literature, the production animates Dylan's epic poem, embodying his characters and dramatises the storyline, filling the scenes with emotion and power.
For Drama Students, the highly physical multi-character performance, the accuracy and frugality of the adaptation and the simple production elements, lighting and sound, are exemplary.
Workshops and post-show discussions can be included. See Workshops
To Download:

FOR INTERNET EXPLORER USERS:
Right click on image and select
"Save Target As:"
Download to chosen destination


FOR CHOME & MOZILLA USERS:
Right click on image and select
"Save Link As:"
Download to chosen destination


FOR SAFARI USERS:
Right click on image and select
"Download Linked File:"
Download to chosen destination


All images are of high enough resolution for publication at normal sizes.
Downloading times are dependent on your modem speed.
For oversized reproduction, please call the office for hard copies: +44 (0)7979 757490
To View or Download Specifications click here for Technical Specs for both, FULL & SEMI-SKIMMED.

To download FULL script - SEMI-SKIMMED script

(NB: These are PDF files. You will require to open them)

UNDER MILK WOOD FULL runs 105 minutes plus an interval (which is optional but adviseable!
UNDER MILK WOOD SEMI-SKIMMED runs 65 minutes with NO interval.
Guy Masterson generally travels alone with scripts, laptop for SFX and gobos.
If travelling by car, he will bring chair. If by ticketed transport, please provide chair (image below).
The show requires only a bare, clean, open stage wth clean black tabs.
Minimum playing area is 4 meters wide by 3 meters deep. This is compact. Larger is preferable. Suitable for auditoria ranging from the intimate (100 seats) to the large (1500 seats).
Clean black flooring, tabs & backdrop are required. If the floor is very scuffed, please repaint or lay dance floor.
Good computerised lighting facilities are required.
Good sound amplification is vital. SFX are provided on APPLE LAPTOP which Artiste will bring. (Minijack to appropriate desk input required)
The show benefits from using Miked effects, where possible, please provide a Radio Mic (Lapel preferably or headset) to run through desk to effects processor required set-up pre-fade. Pre-set Effects required are Cathedral Reverb, Stone Room, Wood Room, and On The Phone.
TECHNICAL SPECS & FULL & SEMI-SKIMMED tek scripts are available by downloading:
Full Version: 77 Lighting Cues (all open white) 1 Large general state, 1 medium state, 6 x 1k profile specials, (2 gobos supplied), 3 fresnel floor lights with barn doors
Semi Skimmed Version: 50 LX Cues.
LX/SFX Cue scripts provided on day and requires in house technician/s to self cue from explicitly numbered Cue-Script (above) Some simultaneous LX & SFX cues will be rehearsed. When also working with the mic (when available) further 30 mins set-up and rehearsal might be required.
Approximate Set up (from rough focus) and fine focus time 3 hours including LX programming time of 1 hour. Rehearsal time with in house technicians 1 Hour.
We also travel with the show recorded on pendrive for Congo, Etc, etc.
IF ALL LX CUES ARE PRE-PROGRAMMED THIS PRODUCTION CAN BE OPERATED BY ONE COMPETENT TECHNICIAN. (SOUND, LIGHTS and MIC ARE GO BUTTON OPPED AND ALL SFX ARE PRE-LEVELLED.) BUT... IF SOUND AND LIGHTS CANNOT BE OPPED FROM SAME AREA, THE SHOW WILL REQUIRE TWO OPERATORS. Rehearsal time with venue operators after focus: 1.5 hours max.

Image of wooden chair required when company is travelling by air or train.